"The Best Books I Read in 2018" | CWR Contributors | Forty CWR editors and contributors share their favorite reads from the last year.

On evangelizing the culture and why hobbits (really) need the Shire | Conor Sweeney | We, as "Christian hobbits", need to understand that the real imperative and challenge of evangelization takes place well before we can even think of doing anything "out there."

Living Advent and celebrating Christmas in a secularized, materialistic society | Fr. Peter M. J. Stravinaskas | Nine suggestions on how to re-capture a proper celebration of the Advent-Christmas cycle of the Church's year.

An Advent Examination | Fr. Kenneth G. Davis, OFM Conv. | While not encouraging it as the grump who steals the joy of Christmas, what better way to prepare for Christ than by preparing our conscience?

Spanning continents and centuries, Our Lady's message is clear | Jeanette Flood | At various times and places, the Blessed Mother has communicated to her children on Earth the need for repentance and trust in God's mercy.

A short defense of authentic synodality | Dr. Adam A.J. DeVille | Prior to the conclusion of Vatican II, synods were not thematic conferences discussing boutique interests of some group or other. Far from it.




The End and the Eucharist: Advent Wisdom from Newman and Knox | Fr. Charles Fox | In a very real sense, the end is always near, and the nearness of Christ's coming calls us to action, to preparation, and vigilance.

Catholic. 100% Pro-life. Feminist. | K. V. Turley | "Like other pro-life feminists," says Fiorella Nash, author of The Abolition of Woman, "I see abortion as a form of exploitation and a sign that contemporary feminism has lost its way."

Saint Paul, the Apocalypse, and the mystery of evil | Conor Sweeney | Satan relentlessly pursues the best so that the worst might be that much more effective a lie.

A Spirituality of Advent | Fr. David V. Meconi | As God's chosen ones "on the way," we must insist on the quiet of Advent.




Why I came to believe that Mary was conceived without sin | Dr. Leroy Huizenga | Most Catholic-Protestant debates surrounding Mary and beliefs such as the Immaculate Conception take place on a surface level.

February meeting at the Vatican needs to address directly the crisis of leadership | Christopher R. Altieri | The evils plaguing the US hierarchy are not limited to the capitally gruesome realities of child abuse and coverup, but include entrenched networks of corrupt and morally bankrupt clerics, high and low.

The Benedict Option for a "Monastic" Church | Richard H. Bulzacchelli, STD | When we confuse the City of God with the City of Man and believe Christians have more in common with the world than not, we assimilate to the world.




Environmental questions we ought to (but rarely) ask | Thomas M. Doran | The greatest environmental threats are not in America or Europe but in autocratic states and in faux-democratic countries where privilege and graft are rampant.

Avoiding another Roman fiasco in February | George Weigel | There are disturbing signs that Those Who Just Don't Get It are still not getting it, I'd like to flag some pitfalls the February meeting should avoid.

The Pope fiddles, the bishops fumble, and the laity fume | Carl E. Olson | No, it's not clear that the Holy See is taking the abuse crisis seriously. And the USCCB isn't helping matters.




How Politics Becomes Religion | Dr. Samuel Gregg | The sheer ferocity of contemporary politics suggests that, for many people, it's their real religion.

James Faulker on playing St. Paul: "This role was a game changer for me..." | Jim Graves | "Paul's faith is one that has love at the very heart of it," says the noted English actor in discussing Paul, Apostle of Christ, "a love that not every religion seems to possess."

Celebrating Humanae Vitae | Richard P. Maggi, Esq. | Why the Church must be willing, as was Blessed Pope Paul, to challenge the faithful to meet the demands of the encyclical's teachings.

A Reflection on Humanae Vitae | John F. Kippley | Recently I watched a television interview with an eloquent defender of Humanae Vitae, but at its conclusion I was disappointed.

Humanae Vitae: An Unwelcomed Anniversary in the West | Rev. Basil Cole, O.P. | What is now needed is a newer encyclical, taking all the truth of HV, and scripting it in light of virtue and vice.

New life, new voices in Catholic letters | James Matthew Wilson | Recent collections of poetry by Ryan Wilson and Mark Amorose tell us that literary culture is far better off than it was four decades ago.




Answering the divine call to participate in the mercy of God | Carl E. Olson | Saying "yes" to God is often a prelude to being told "no" by those who hear God's word.

Amazon.va? | Fr. Peter M.J. Stravinskas | Germany probably doesn't have that much concern about the ecclesial mess of Latin America but believes it can use their predicament to move the Church Universal yet further in the leftward direction.

Maintaining the Liturgy in a Homily Surrounded by Technology | Fr. Matthew P. Schneider, LC | Does technology enhance or diminish a homily? Should we use technology in homiletics?

Pascal's Wager, certitude and doubt, and the human condition | Carl E. Olson | "The wager," says the author of a new book on Pascal's philosophy and faith, "demands a kind of self-transformation of one's passions, a movement from self-interested calculation to generous self-giving."




High-placed Shadows and the Summer of 2018 | Peter D. Beaulieu | Does the Church still grow young as the world grows old?

Bishop Athanasius Schneider discusses liturgy, priesthood, doctrinal confusion, immigration, Synod on the Youth | Paul Senz | An interview with the outspoken Auxiliary Bishop of the Archdiocese of Astana, in Kazakhstan.

Bishop Joseph Perry: Youth hunger for mystery and liturgy; need tradition and history | Nicholas LaBanca | The Auxiliary Bishop of Chicago reflects on worship and pedagogy.

Cardinal McCarrick and the crisis of episcopal leadership | Christopher R. Altieri | The shock and sadness expressed over the allegations Cardinal McCarrick violated the Charter are no more than a red herring.




Good-bye, Dad | Patrick Coffin | Since the death of my father three months ago, I have re-read parts of A Grief Observed by C.S. Lewis, the blunt opening line of which tells the truth: "no one told me grief feels so like fear." That's about right.

"Evangelism always follows from relationships": Daniel Mattson on same-sex attraction and witnessing to the Faith | Leslie Fain | The author of Why I Don't Call Myself Gay says evangelizing the LGBT community starts the same way all evangelization starts: with building relationships.

Why was "Joan of Arc" Mark Twain's favorite among all his many books? | Kelly Scott Franklin | To a certain extent, Twain's novel about the young, fifteenth-century French girl and Saint remains a puzzling act of devotion from a complicated man.




The Death of Embryos and "The Conception Problem" | Stacy A. Trasancos | To embrace an embryo, we must conceive what has been conceived.

Michelle Wolf and the Throwaway Culture | Bishop Robert Barron | When we live in the space beyond good and evil, and when morality is construed as entirely the invention of personal freedom--then the will of the most powerful necessarily holds sway.

Making a diverse College of Cardinals work | George Weigel | There are obvious advantages to the internationalization of the College of Cardinals, but the lack of familiarity among the cardinals could cause serious problems at the next papal conclave.

The case and death of Alfie Evans raises issues that must be addressed | Christopher R. Altieri | We want to be able to entrust our care and that of our loved ones to people who are not on the fence about whether life is a basic and irreducible good.

Pope Francis "takes aim" in "Gaudete et Exsultate"--and misses? | Carl E. Olson | The many good qualities and substantive passages in Gaudete et Exsultate are often overshadowed, or even undermined, by straw men, dubious arguments, and cheap shots.

The songs of Marie Bellet: Parables for the 21st century | David Cunningham Cassel | Marie sings her parable-songs, and through them we learn of her husband, her family, her friends, her Christian faith...and herself.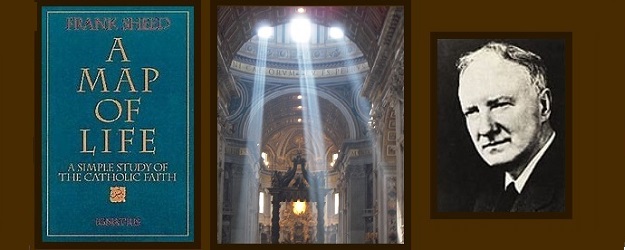 Frank Sheed on Church Teachings | Fr. James V. Schall, S.J. | It is worth taking a look at what Sheed, the eloquent Australian publisher and philosopher, had to say on the topic of whether the teaching Church could err.

Youth, liturgy, and the need for true worship | Rev. Peter M.J. Stravinskas | Liturgy--like the Faith it celebrates--never admits of an "erector-set" approach; good liturgy, true liturgy is received, not fabricated, and it takes seriously the human person in all his complexity of body and soul.

Female ordination advocates ignore theological truth, focus on power | Nicholas Senz | Those who insist that women ought to be ordained as Catholic priests do not simply want to serve the Church--they want to change the Church.

Unapologetic Apologist: Five lessons from St. Justin Martyr | Dr. Edward Feser | Our forebears in the Faith were much stronger than us morally and spiritually. Not for them the lax observance and flaccid sentimentality that characterize so much of contemporary Christianity.

Revisiting the Letter to Families | Mo Woltering | Pope St. John Paul II's Letter to Families, which was first published in 1994, is a gem highly worth revisiting. This treatise on the family is packed with inspiring theology for families, and especially fathers.




Ross Douthat on Francis' pontificate: "We live in interesting times as Catholics" | Paul Senz | The New York Times columnist and author of To Change the Church discusses his new book on the Pope, and what he hopes his liberal and secular readers will take away from it.

"The Face of Human Dignity in the Novels of Fiorella de Maria" | IP Novels | Humanum, a quarterly review from the John Paul II Institute, recently posted a perceptive review essay by Michalina Ratajczak of three novels by Fiorella De Maria.

Schmemann and "liturgy outside liturgy" | Dr. Adam A. J. DeVille | "Tradition has said that liturgy has two purposes: the glorification of God and the sanctification of man," says Dr. David Fagerberg, author of a new book on the liturgical theology of the Orthodox theologian Fr. Alexander Schmemann.

Avengers: Infinity War presents a villain for our times | Thomas P. Harmon | The latest installment in the Marvel Cinematic Universe is about its villain far more than about its heroes.

The Vine, the Branches, and "Eternal Security" | Carl E. Olson | Several years ago I exchanged a couple of letters with a Fundamentalist pastor who had given a lengthy and openly anti-Catholic sermon at the largest Baptist church in the state of Oregon.

Catholic mothers group hosts daughter of St. Gianna Beretta Molla | Fiorella Nash | The group was founded in 2015, in part, in response to a secular Facebook mothers' group where womanhood, motherhood, manhood and family life were constantly under attack and being redefined.




Murdered by a Machine | Dale Ahlquist | Chesterton saw it coming. Official control means the loss of parental control. It's gone from the classroom to the hospital room.

The Creative Catholic: Robert R. Reilly | K.V. Turley | "Writing is hell," says the author and critic, "I think it is the hardest work one can do.

Why we need "objectively disordered" | Jim Russell | Many Catholics across the globe have bought into the ideology of sexual orientation, a morally bankrupt rewriting of sexual reality that utterly relativizes the truth about God's plan for us.

Fr. James Martin, S.J., and accusations of heresy | Edward N. Peters | Fr. Martin's rebuff of heresy accusations suggests that either he does not know or does not wish to acknowledge that "heresy" is not limited to the actual contradiction of revealed truths.

Overcoming Fr. Martin's dissent through genuine, transforming love | Janet E. Smith | True welcoming means we make it clear we want everyone to join us in following Jesus.

The purpose and place of poetry today: An interview with Dana Gioia | Carl E. Olson | "I worry about my students," says the award-winning Poet Laureate of California, "so many of whom are so preoccupied with social media and digital entertainment that they lack the contemplative space to develop their inner lives."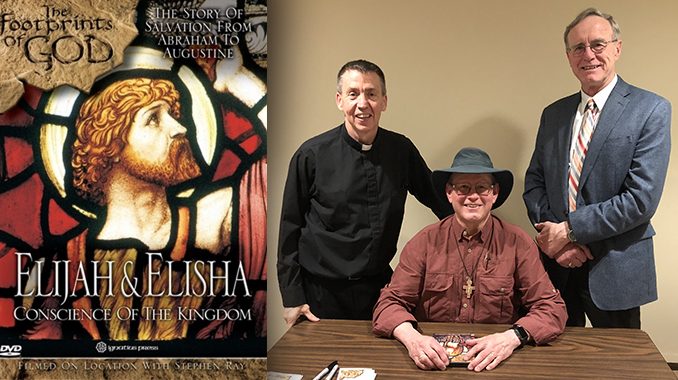 Ninth film in "Footprints of God" series launches at world premiere in Michigan | Diane Hanson | More than 300 fans gathered at St. John Neumann Catholic Church in Canton, Michigan, to watch Steve Ray's Elijah & Elisha: Conscience of the Kingdom, which had been more than a year in the making.

George Weigel on the "lessons in hope" he received from John Paul II | Carl E. Olson | The papal biographer's new book describes his relationship with Pope John Paul, as well as the great challenges the pope faced in the final years of his life.