The Death of Embryos and "The Conception Problem" | Stacy A. Trasancos | To embrace an embryo, we must conceive what has been conceived.

Michelle Wolf and the Throwaway Culture | Bishop Robert Barron | When we live in the space beyond good and evil, and when morality is construed as entirely the invention of personal freedom--then the will of the most powerful necessarily holds sway.

Making a diverse College of Cardinals work | George Weigel | There are obvious advantages to the internationalization of the College of Cardinals, but the lack of familiarity among the cardinals could cause serious problems at the next papal conclave.

The case and death of Alfie Evans raises issues that must be addressed | Christopher R. Altieri | We want to be able to entrust our care and that of our loved ones to people who are not on the fence about whether life is a basic and irreducible good.

Pope Francis "takes aim" in "Gaudete et Exsultate"--and misses? | Carl E. Olson | The many good qualities and substantive passages in Gaudete et Exsultate are often overshadowed, or even undermined, by straw men, dubious arguments, and cheap shots.

The songs of Marie Bellet: Parables for the 21st century | David Cunningham Cassel | Marie sings her parable-songs, and through them we learn of her husband, her family, her friends, her Christian faith...and herself.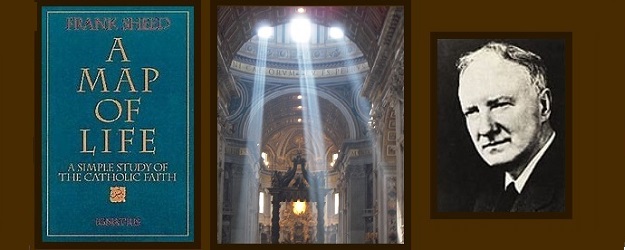 Frank Sheed on Church Teachings | Fr. James V. Schall, S.J. | It is worth taking a look at what Sheed, the eloquent Australian publisher and philosopher, had to say on the topic of whether the teaching Church could err.

Youth, liturgy, and the need for true worship | Rev. Peter M.J. Stravinskas | Liturgy--like the Faith it celebrates--never admits of an "erector-set" approach; good liturgy, true liturgy is received, not fabricated, and it takes seriously the human person in all his complexity of body and soul.

Female ordination advocates ignore theological truth, focus on power | Nicholas Senz | Those who insist that women ought to be ordained as Catholic priests do not simply want to serve the Church--they want to change the Church.

Unapologetic Apologist: Five lessons from St. Justin Martyr | Dr. Edward Feser | Our forebears in the Faith were much stronger than us morally and spiritually. Not for them the lax observance and flaccid sentimentality that characterize so much of contemporary Christianity.

Revisiting the Letter to Families | Mo Woltering | Pope St. John Paul II's Letter to Families, which was first published in 1994, is a gem highly worth revisiting. This treatise on the family is packed with inspiring theology for families, and especially fathers.




Ross Douthat on Francis' pontificate: "We live in interesting times as Catholics" | Paul Senz | The New York Times columnist and author of To Change the Church discusses his new book on the Pope, and what he hopes his liberal and secular readers will take away from it.

"The Face of Human Dignity in the Novels of Fiorella de Maria" | IP Novels | Humanum, a quarterly review from the John Paul II Institute, recently posted a perceptive review essay by Michalina Ratajczak of three novels by Fiorella De Maria.

Schmemann and "liturgy outside liturgy" | Dr. Adam A. J. DeVille | "Tradition has said that liturgy has two purposes: the glorification of God and the sanctification of man," says Dr. David Fagerberg, author of a new book on the liturgical theology of the Orthodox theologian Fr. Alexander Schmemann.

Avengers: Infinity War presents a villain for our times | Thomas P. Harmon | The latest installment in the Marvel Cinematic Universe is about its villain far more than about its heroes.

The Vine, the Branches, and "Eternal Security" | Carl E. Olson | Several years ago I exchanged a couple of letters with a Fundamentalist pastor who had given a lengthy and openly anti-Catholic sermon at the largest Baptist church in the state of Oregon.

Catholic mothers group hosts daughter of St. Gianna Beretta Molla | Fiorella Nash | The group was founded in 2015, in part, in response to a secular Facebook mothers' group where womanhood, motherhood, manhood and family life were constantly under attack and being redefined.




Murdered by a Machine | Dale Ahlquist | Chesterton saw it coming. Official control means the loss of parental control. It's gone from the classroom to the hospital room.

The Creative Catholic: Robert R. Reilly | K.V. Turley | "Writing is hell," says the author and critic, "I think it is the hardest work one can do.

Why we need "objectively disordered" | Jim Russell | Many Catholics across the globe have bought into the ideology of sexual orientation, a morally bankrupt rewriting of sexual reality that utterly relativizes the truth about God's plan for us.

Fr. James Martin, S.J., and accusations of heresy | Edward N. Peters | Fr. Martin's rebuff of heresy accusations suggests that either he does not know or does not wish to acknowledge that "heresy" is not limited to the actual contradiction of revealed truths.

Overcoming Fr. Martin's dissent through genuine, transforming love | Janet E. Smith | True welcoming means we make it clear we want everyone to join us in following Jesus.

The purpose and place of poetry today: An interview with Dana Gioia | Carl E. Olson | "I worry about my students," says the award-winning Poet Laureate of California, "so many of whom are so preoccupied with social media and digital entertainment that they lack the contemplative space to develop their inner lives."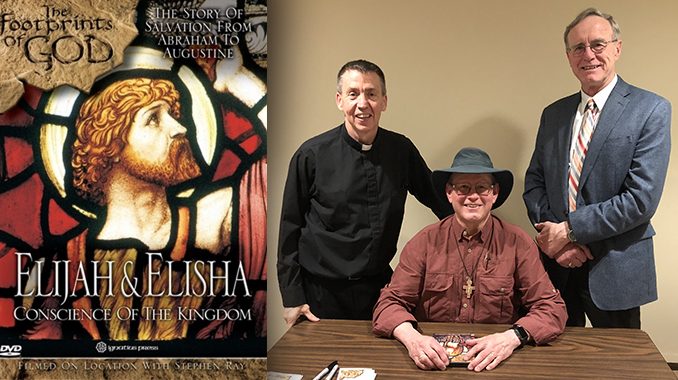 Ninth film in "Footprints of God" series launches at world premiere in Michigan | Diane Hanson | More than 300 fans gathered at St. John Neumann Catholic Church in Canton, Michigan, to watch Steve Ray's Elijah & Elisha: Conscience of the Kingdom, which had been more than a year in the making.

George Weigel on the "lessons in hope" he received from John Paul II | Carl E. Olson | The papal biographer's new book describes his relationship with Pope John Paul, as well as the great challenges the pope faced in the final years of his life.

The Modern Malaise and the End of the World | Dale Ahlquist | The end of the world is more real than the world. The Creator is more real than the creation. The end of time is the beginning of eternity, when time's urgencies dissolve.

A "tough guy" priest, in the gulag and beyond | Jim Graves | Father Walter Ciszek is known for his courage while imprisoned in the Soviet Union. But his spiritual writings show him to be "a saint of the ordinary life."

A Gift from Edith Stein (1891-1942) | Francis Etheredge | Why I regard Edith Stein as a Mother of the Council, and a Modern Mother of the Church.

Ave and Irma: How this small Catholic university weathered the storm | Meryl Kaleida | Ave Maria University rode out Hurricane Irma giving shelter and aid to the poor and needy from the local community.

On teaching the liberal arts | James Matthew Wilson | My maturation as a professor came when I learned to love ideas more by way of coming to love them through--in pilgrimage with, in communion with--my students.

The refined, problematic casuistry of Abp. Fernández's defense of chapter 8 of "Amoris Laetitia" | Fr. D. Vincent Twomey, SVD | Archbishop Fernández's essay on the controversial eighth chapter has only raised more questions and created further confusion.

Cardinal Sarah, "terrorism of thought," and the fight for faith | Jerry Salyer | In certain key respects the struggle between predominantly urban revolutionaries and predominantly rural Christians during French Revolution foreshadows the current Blue-Red divide.

The "useless" doctor of Lourdes | Father Seán Connolly | "There is no other place in the Catholic world with so much suffering, and yet with so much joy, as Lourdes," says Dr. Alessandro de Franciscis.

Contemporary Tyranny and Catholic Social Doctrine | James Kalb | The current situation of growing soft totalitarianism is too recent and too disturbing for its implications for Catholic social action to have been adequately understood and articulated.

Two Englishmen whose lives were commentary on the question of conscience | Stephanie A. Mann | For Thomas More, following his conscience led him to martyrdom; for John Henry Newman, following his conscience led him to become a Catholic.

An Evangelical theologian responds to Fr. James Martin, S.J. | Robert A. J. Gagnon | A consideration of Fr. Martin's "seven ways" of responding to the Nashville Statement underscore the truncated gospel (or even anti-gospel) with which Martin operates.

A lucid, insightful tour through the principles of ecumenism | Dr. Jared Ortiz | Peter Kreeft's Catholics and Protestants: What Can We Learn from Each Other? emphasizes that Christ's "Church will become wholly whole when it becomes wholly holy."

Honoring "the Grunt Padre" 50 years after his death | Jeanette Flood | Servant of God Father Vincent Capodanno died administering the sacraments to men in combat. Fifty years later, the cause for his canonization is underway.

What, the Devil? | Dr. Anne Hendershott | A new study reveals that Catholics are among the least likely to agree that Satan is a "living being."

The Creative Catholic: Anthony Esolen | K. V. Turley | "Do not read a book, ever, just so that you can say clever things about it," advises the prolific author and translator, "Read books for instruction and delight. If you don't care for novels, read something else--but read good writers, not garbage."

Transcendent truth, not leftist hypocrisy, needed to overcome racism and other evils | Carl E. Olson | The Left always seeks to claim and re-name the moral high ground, but has no objective foundations for its radical political project